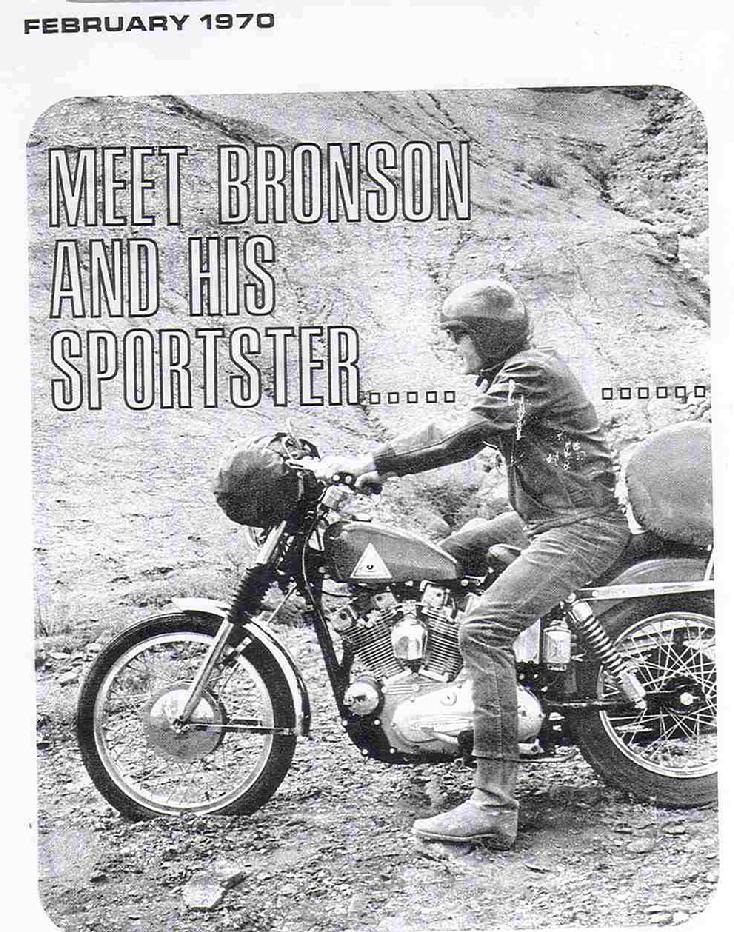 The following images, captions, and prose are from the Feb. 1970 Enthusiast. The writer seems very talented, but it also seems that he didn't actually see the show. No matter, it's a snapshot in time of some of the behind the scenes images during the 1969-1970 shooting of the show. My apologies for the quality of the scans.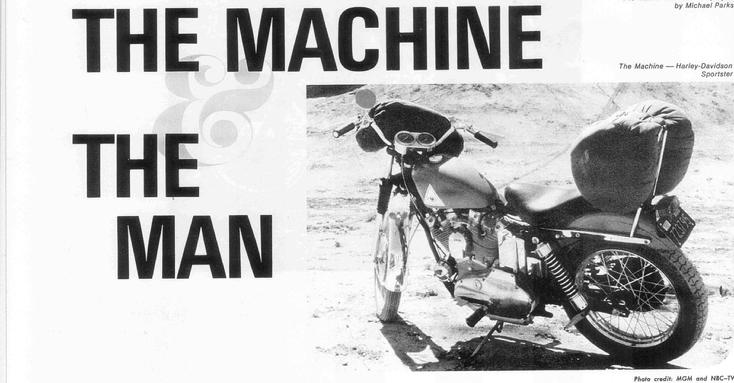 The Machine - Harley-Davidson Sportster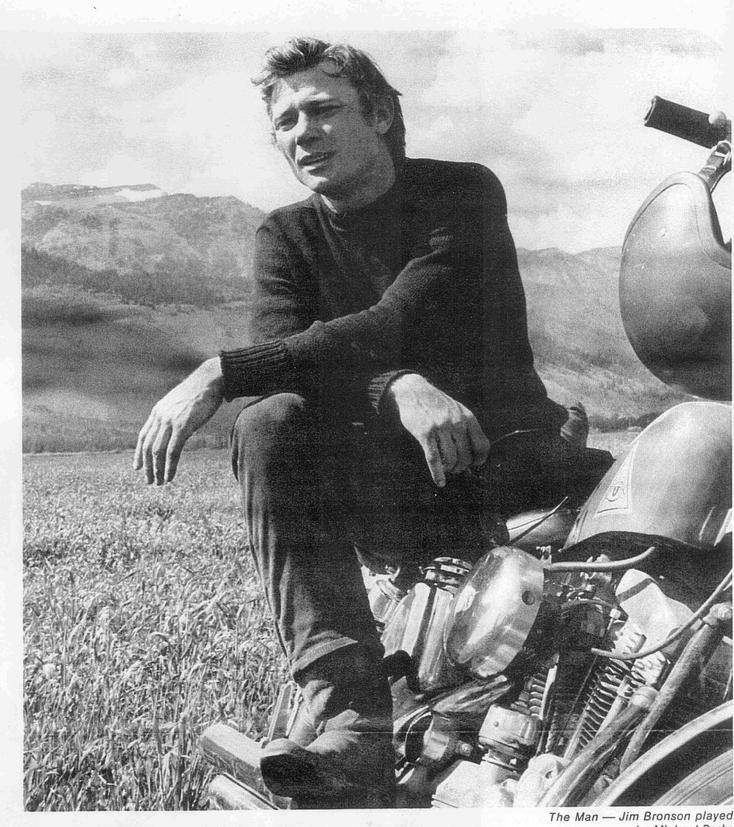 The Man - Jim Bronson played by Michael Parks
Man feels the elemental urge to be free. To take off down that road, to search and find. The proximity of a powerful, strong motorcycle increases that instinct. Then Came Bronson fuses man and machine in a drama where the realism of life is briefly held in sharp focus for all to inspect.
Jim Bronson is a young man seeking meaning in life, trying to find what it's all about. His searching is nomadic and unplanned. Traveling by motorcycle he encounters many people and situations.
Through the eyes of Bronson we see people interacting, usually it is only an incident, a short period in their lives, but crucial and deeply felt.
Bronson is a catalyst. He is not involved in people's lives more than necessary. His short presence sparks an insight, shatters a belief, or presents a challenge that his new-found acquaintences must deal with. He offers minimal advice and much understanding. The solution, as it should be, is left to those who will be affected(sic) by it.
Jim Bronson, though involved, does not seem affected(sic). He mounts his Sportster and heads for the freedom of the road where he can digest his recent experiences while searching out new ones.
"Headin' down that lonesome highway. Head'n for the place I want to be.": This line from the record album "Closing the Gap" provides the background for his exit - a powerful machine to transport him and miles of road ahead. (Note: We all know that the real exit line was: "Goin' down that long lonesome highway, bound for the mountains and the plains." from the Long Lonesome Highway album.)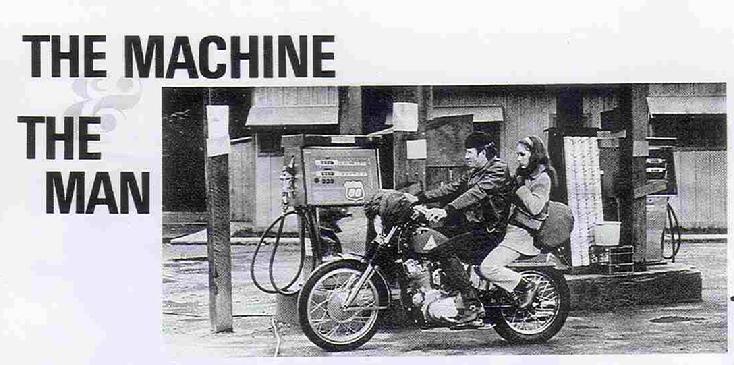 This scene is taken from the two hour pilot show originally shown last March and again last summer. The audience response was so great that MGM decided to go ahead with the full season series.
The following thumbnail images can be enlarged by clicking them.

| | |
| --- | --- |
| The first episode of the series "The Runner" featured Mark Lester, who played a mentally disturbed youth whom Bronson reaches thru the excitement of his cycle. Cameramen get ready for close-up shot. | The Sportster soon became as familiar a piece of equipment on the set as this huge dollie-camera(sic). |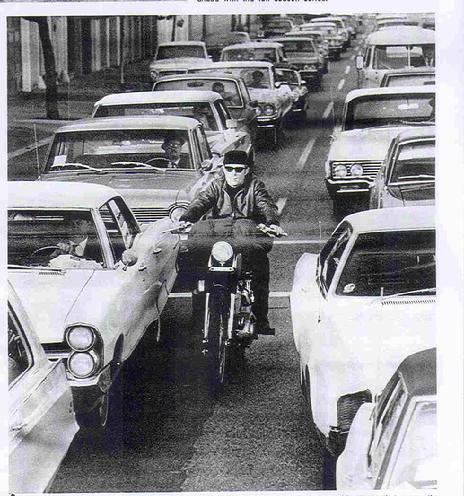 Anyone who has seen the Wednesday night series on NBC-TV is sure to rember this scene that opens the show weekly. (Note: Anyone who has seen the show would know that this was not a scene that opened the show weekly, but rather is taken from the movie. The show opener was Bronson pulling up next to Station Wagon Guy.)
| | |
| --- | --- |
| Bud Ekins, Action Coordinator is well known for his motorcycle off-road abilities. Lamar Boren is equally famous as a photography director in "Sea Hunt" and James Bond's "Thunderball". When they got together, this tricycle-mobile-camera was born. The rig helped him to capture the uniqueness of cycling for the TV audience. Ekins in the saddle and boren with the cowboy headgear. | "Mating Dance for Tender Grass" was the title of episode in which Indians gave up their ponies for some wild cycle riding(sic). Here Michael Parks and Buffy Saint Marie double up and Eddy Blue Sky solos.(Note: The fella on the dirt bike is named Eddie Little Sky.) |
| | |
| --- | --- |
| To avoid any delays in shooting, several "Bronson Sportsters" are always on deck, ready for action. Now and then one of the machines is bent up a bit due to the stunt action called for in the script. | Bronson's most often seen "uniform" while on the road is his bright red helmet, weather-worn leather jacket and faded corduroy pants, and sunglasses, of course. |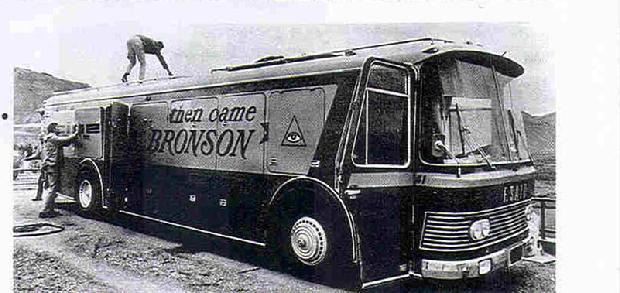 One of the things that has made Then Came Bronson unique to television is the use of the Cinemobile. Designed by Fouad Said, the 35- foot mobile picture studio provides the completely on-location filming of the series. (sic)