CLICK THE LINK OR THE MOVIE BUTTON BELOW TO WATCH A BRIEF NBC PROMO TRAILER FOR THE SHOW CIRCA 1969
(Note the whiny two stroke engine sound effects that accompanies it.)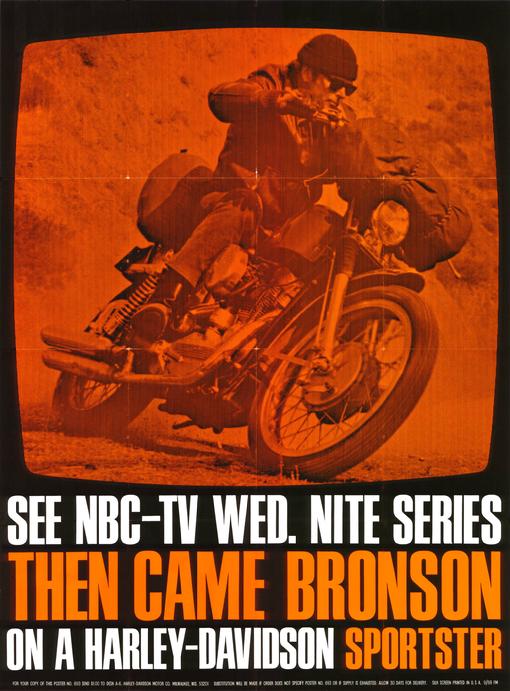 HARLEY DEALER TIE IN POSTER
THEN CAME BRONSON
THE 26 ONE HOUR LONG EPISODES AIRED WEDNESDAYS AT 10:00P.M. on NBC-TV
The ensemble casts included established stars of the day, and many new faces who would go on to be come major TV and Film names. Clicking the highlighted names will take you to links with each individual's working career credits. The following page has a graphic from each episode.
Subliminal Advert: Buy TCB Stuff for Christmas!!!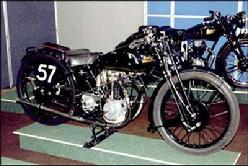 Rudge-Ulster ...with a bronze head. From "The Old Motorcycle Fiasco". Thanks to Texas Clint for the pic.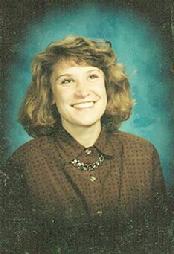 Why is this Colorado elementary school teacher pictured here? Answer at bottom of page.
SEPT 1969 THRU APRIL 1970
#1 THE RUNNER - 9/17/69
Jack Klugman & Penny Marshall

Bronson takes a temporary job at a summer camp for disturbed kids and becomes attached to a self destructive boy(Mark Lester) who the counselors have dubbed "The Runner". The boy becomes fascinated with THE BIKE. Bronson disagrees with the head psychologist's(Jack Klugman) negative methods of treatment and is allowed to try to reach him. When The Runner disappears it seems Bronson's method is a failure, but all's well in the end. Perky post-adolescent Penny Marshall makes brief appearance.

#2 THE OLD MOTORCYCLE FIASCO - 9/24/69
Keenan Wynn

When an old time biker(Keenan Wynn)Alex, offers to let Bronson use his shed and tools needed to repair THE BIKE after a local yokel fills it with weed killer instead of gas, the old timer shows Bronson his Rudge Ulster with the bronze head that has been hidden in the shed for 20 years after he promised his wife he'd never ride again following an accident. When the wife discovers the old bike, all hell breaks loose for the oldster and Bronson both. Alex gets the urge to to ride again and suggests he and Bronson hit the road again, despite the consequences to his marriage, not to mention life and limb. First of several episodes where THE BIKE is broken down and reassembled to pristine condition using only rudimentary tools. Wynn is outstanding and rumor has it that the Rudge was his own personal bike.

#3 A FAMINE WHERE ABUNDANCE LIES - 1/10/69
Charlotte Stewart & Carol Rosen

Oh what a tangled web we weave. Teenager Lori Balin becomes infatuated with Bronson when he is hired on to work on her mother's ranch. The mother, a recent widow, is also attracted to Bronson who renews her interest in life and men. The mother daughter conflicts which arise leave Bronson no choice but to hit the long lonesome highway, leaving both frustrated but happy.

#4 THE CIRCLE OF TIME - 10/8/69
Elsa Lanchester &Dabney Coleman

Bronson meets an elderly lady on the road next to a stalled 1953 Chevy which she is thrashing and attempting to push into a ravine to be rid of it. After sending the Chevy down the gorge, Bronson returns her to her house nearby where she offers him food and found for doing chores she needs done. Hattie lives alone in a nearly deserted area where the principle contact is with a local character,Abner, who has been searching for silver in them thar hills for years. Fascinated by Hatties vibrant spirit and strange stories of her history, Bronson links with her past. Dabney Coleman's doctor character tries to save her from herself, but to no avail. Again, THE BIKE is given a improv repair job and turns out just fine. Bronson's last chore is gravedigger.

#5 WHERE WILL THE TRUMPETS BE? - 10/15/69
Fernando Lamas & Jessica Walter

What a guy! This time our hero visits and old friend, who just happens to be a bullfighter's girlfriend. Miguel(Fernando Lamas)schools Bronson in the art and courage of the bull ring, while Bronson reciprocates by introducing Miguel to the challenge of the hill climb. Pretty girls around the pool, bullfighting, hill climbs. Who could ask for anything more? Young Fernando looks maahhvalous!!!



#6 AMID SPLINTERS OF THE THUNDERBOLT - 10/22/69
Bruce Dern & James Doohan

Dark episode. Fallen priest, Bucky(Bruce Dern) feels that his former religious life was a sham, torturing his concience. His pregnant wife, Mary, feels she is somehow responsible for his torment and expects to die in childbirth. Bronson knows that he must somehow get his old friend to seek medical help for the girl. Young Dern at his early diabolical best. Pre Star Trek Doohan lacks Scottish accent.

#7 THE 3:13 ARRIVES AT NOON - 10/29/69
Larry Gates & Bob Steele(1)

This one's got some great dialogue. An old desperado is slated to be released from prison after serving a long stretch, and the town expects that when he comes home some old scores will be settled. Paybacks expected involve the town pol who turned him in for the reward money and has gone on to own everything of import in the small town, and the now insurance salesman who married his girl. Bronson gets tangled up in this when the pol backs into THE BIKE with his car and proceeds to make life miserable for Bronson to the point where he lands in jail(actually a Mayberry RFD type of slammer). The whole town turns out for the final showdown when the old con arrives back from prison. Old time cowboy star Bob Steele plays the con in one of his final roles.

#8 OLD TIGERS NEVER DIE - THEY JUST RUN AWAY - 11/5/69
Will Geer & Iron Eyes Cody -

Bronson tangles with obsessive Russ, who thinks Jim wants his girl and his bike riding glory. Bronson is once again the odd job man, this time for Will Geer's Oliver, who is a retired newspaper man who can't shut up. Iron Eyes Cody is the consumate Native American, eventhough he was really an Italian guy who made a fortune pretending he was an Indian.







Click the thumbnails at right to enlarge.

#9 YOUR LOVE IS LIKE A DEMOLITION DERBY IN MY HEART - 11/19/69
Flora Plumb & Tim McIntire

Bronson comes to town and immediately latches onto the prettiest girl for miles. Unfortunately, her overprotective brother doesn't like it and plots to take Bronson out of the picture. Bronson helps Leona, derisively called Leon(there may be issues lurking here) by the local boys, win their respect by entering the big Demolition Derby. Great wrecking of vintage cars.

#10 TWO PERCENT OF NOTHING - 11/26/69
Steve Inhat & Zalman King

Out of money again, Bronson hires on with a gang of oil wildcatters. Riches lie just below the surface if they can just hit the pocket before the mortgage comes due. In lieu of wages Bronson is given a 2% share of the well when in comes in, if it comes in. It don't! But even as he hits the long lonesome highway, hope springs eternal with the wildcatters that it'll come the next time.

#11 ALL THE WORLD AND GOD - 12/3/69
Lois Nettleton & Rex Holman

Nurse Barbra is nearly at the end of her rope when Bronson shows up with a lost puppy. She's depressed over the death of the local doctor who treated impoverished locals and the weight of the responsibility that now falls on her for their care. She is torn between her patients needs and her desire to live her own life. Bronson marvels at the loving care and counsel that she gives to her patients, but is conflicted as to how help her solve her dilemma.

#12 A LONG TRIP TO YESTERDAY - 12/10/69
Robert Hooks & Slim Gaillard

Rare episode with minority cast members in meaningful roles(it was 1969 after all). Bronson helps out Henry Tate pay the bill when his Hog breaks down and a bigoted mechanic gouges him for the repairs. Bronson is ready to forgive the debt, but Henry is proud and wants to settle up. A homecoming back at Henry's family becomes uncomfortable when it coincides with Henry's mother's funeral.

#13 THE SPITBALL KID - 12/17/69
Kurt Russell & Don Drysdale

Bronson lands a job with a factory more for his baseball skills than anything else. Kurt Russell plays a prima donna pitcher with major league potential who loses his confidence when Bronson hits him all over the park. The two team up as pitcher and catcher battery, and Willie P. gets his groove back. When the major league scouts show up and make Willie P. an offer he can't refuse, he's afraid to make the move without his favorite catcher. Hard to believe this rosy cheeked kid is the same guy who played Snake in "Escape from New York". Don Drysdale cameo.

#14 AGAINST A BLANK COLD WALL - 12/24/69
Robert Loggia & Pilar Seurat

One of only two episodes with any Viet Nam reference. Tony, a returned Viet vet, comes home with intentions of returning himself and his family to their Native American traditions. While Tony's intentions are honorable, his family is starving and his wife is pregnant. Bronson saves the day.

#15 SIBYL - 12/31/69
Renne Jarrett & Michael Lipton

New-age before there was new-age. Bronson meets hippie type chick in VW micro-bus who claims to be a witch, and invites Bronson along to explore her beliefs. Conflict between occult and religion ensues. Sibyl discovers she and the group are only avoiding responsibility through their supernatural belief system. Bronson doesn't buy any of it and the fraudsters are exposed.

#16 A PICKIN' AN' A SINGIN' - 1/14/70
Michael Burns(1) & Skip Homeier

Contrived episode used to showcase Park's musical talents(and they are considerable). Bronson teams up with singer/songwriter Billy Mulavey to win talent contest which leads to paid gigs at the local bar. Smarmy DJ waves contract at them, and then it turns out that Billy might be a plagarist. Parks sings several times in this one, which all in all is a blatant plug for the "Long Lonesome Highway" LP.

#17 THE GLEAM OF THE EAGLE MIND - 1/21/70
Jay Novello & Richard Webb(1)

Ever the itinerant worker, Bronson this time teams up with an elfin aging artist to paint a barn overnight. When the morning comes, the barn owner finds he got way more than he bargained for. Juan has taken a bit of artistic license with his chore and has covered the roadside of the barn with a huge rendition of a reclining nude woman. The owner is outraged, and sees more than a passing likeness with his own wife. As more and more locals arrive to see the painting, they too see their wives as the model. Juan, it seems, has been been dabbling in more than wine over the years. Things change bigtime when an art dealer dubs the work as "primitive art" and offers huge $$ for it.

#18 THAT UNDISCOVERED COUNTRY - 1/28/70
Mark Jenkins & Heidi Vaughn

Talk about your fish out of water! Bronson winds up with an Amish style community and his presence excites their interest with the "outside world". Crisis arises when Harold thinks his girl Dorothy is attracted to Bronson. Not to be outdone, after a lifetime of horse and buggy, Harold steals THE BIKE (No mean feat for a person who's never rode a motorcycle, to just hop on a Sporty and roar off, eh?) and roars off for the big city, where he even hooks up with a pretty girl(that is, after all why we own Harleys). BIKE and boy eventually return, and Bronson has left Dorothy's chastity in place. Everyone realizes it's best to stay where you belong.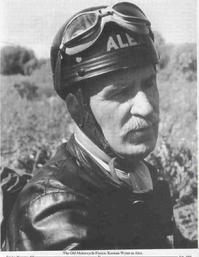 THE OLD MOTORCYCLE FIASCO
#19 LUCKY DAY - 2/4/70 Lynne Marta & Barry Brown

Even poor wayfaring strangers got family. In this episode Bronson pops round to visit his cousin Eve in Reno. Eve and her naive fiancee Len, make a spur of the moment decision to marry while Bronson is in town, but the plans go awry when Eve's gambling comes between them. Bronson decides to teach Eve a lesson and takes her to the casino intent on losing all her money. Problems develop when it backfires and Eve can't lose and the wedding takes a backseat to the gambling.
#20 MATING DANCE FOR TENDER GRASS - 2/11/70 Eddie Little Sky & Buffy Sainte-Marie

Personal favorite. This episode has the most bike scenes of any in the series. The only other episode with any Viet Nam references(Spare Parts 1& Spare Parts 2 are two Native American kids just back from the war). Bronson is goaded into a breakneck cross country cycle race by big Indian, Boise Idaho, and his buddies. First prize is a new to-die-for boat-tail Harley, that Boise wants to impress his girl, Tender Grass(played by sixties songstress Buffy St. Marie). It's neck and neck down to the finish, but Bronson prevails and wins the race and the motor, and then true to form he gives the new Harley to the big Indian(yeah sure!). Other than Buffy's irritating yodeling, the most amazing thing in this one is the transmogrification of the THE BIKE from a Harley Sportster into a 125cc Jawa for the race, and then back to a V Twin after.
#21 THE MOUNTAIN - 2/18/70 James Whitmore & Melendy Britt

Bronson meets a famous author with a beautiful wife. Aging Wilson Ford requires testing his own courage to maintain his personal vision of the truth. Much to the disapproval of his wife, Ford taunts Bronson into a treacherous climb up a mountain, during which Ford nearly succumbs to the rigors of the climb. Conflicting values, generational and intellectual clashes, with Bronson emerging the victor.
#22 STILL WATERS - 2/25/70 Veronica Cartwright & John Colicos

A harrassed newspaper editor is caught in a dilemma. Having enjoined a print campaign to save local waters from industrial polluters, which his daughter and eventually Bronson fervently believe in, the resulting backlash from advertisers threatens the paper's continued existence. Harve, the editor, is an ex alcoholic and the pressure from family and business concerns drive him back to the brink of relapse.
#23 THE FOREST PRIMEVAL - 3/4/70 Lee DeBroux & Gary Clarke

Heeding the advice of a haggard big city pump jockey(that's a guy who used to put gas in your tank at service stations, for you too young to remember), we find Bronson getting away by riding through the hillsides around Big Sur. Bronson loses THE BIKE into a ravine and has to do another of those wonderous no tools rebuild jobs that he exceeds at. The normally tacit Parks outdoes even himself in this one as we are privy to his inner thoughts and very little outside dialogue. His desparate straits evoke reflections on nature and his surroundings, all the while frantically working on THE BIKE and keeping an eye out for rescuers. Eventually gets the bike back together using rocks and other native materials and rides it back out to civilization, squeezing amazing mileage from the Sporty's 3 gallon tank.
#24 THE NINETY-NINE MILE CIRCLE - 3/11/70 David Burns & Paula Victor

Bronson is intrigued by an elderly Jewish widower, who left it all in the East to travel liesurely across the country in his luxury van. Once again, the Harley is broke down(this alone gives the show a sense of credibility) and Bronson and his new found friend spend a hundred miles together in search of a part. They share the beauty of the California coast, become involved in a bizarre pool game, and have dinner with a lively widow who is attracted to Katz.
#25 THE MARY R - 3/25/70 Gerald O'Loughlin & Beverly Garland

Family ties once again, as Bronson attempts to help his uncle and cousin overhaul their old fishing boat, the Mary R. Cousin Carl is fiercely dependent on the boat and hyperventilates at the thought of losing it, because he equates it with the death of his mother. Dispite yoeman work from the three, they can't make the deadline from the boatyard owner and the reality is that the boat is gone. Uncle Herman's new fiancee gives him an ultimatum, it's her or the boat.

#26 WHAT'S AN ARK WITHOUT CENTAURS -

Anjanette Comer(Vhea)Morgan Woodward(Gus)

Final episode. One last time Bronson is forced to take a job. Working for wealthy Gus Samos, he finds himself in the middle of Samos and his spoiled adult daughter, Vhea. She can't accept the way of life of her father, a self made man, and he can't understand her rejection of his material success(typical sixties generation gap conflict) and principles. When Vhea leaves home, Bronson goes after her, but finds his motives attacked by both father and daughter. Time for one last ride down that Long Lonesome Highway. Fade to black. End of series.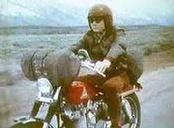 Answer to teacher question: In 1969 she was the foundling infant featured in the "All The World and God" episode that aired in Dec. 1969.